Working for a business school means that my opportunities to explore product placement as part of my job are extremely limited. However, it's something that I notice, consciously, in the movies and TV that I watch. This year, I've been noticing a lot of clustering in the product placement – it's not evenly distributed throughout the movie, or even amongst the characters in the movie.
Sometimes, this makes sense. In The Bourne Ultimatum, it makes more sense to load the scene in Waterloo Station with adverts and prominent shop logos, because that's what Waterloo Station actually looks like. It's not worth pretending that the film takes place in an alternate reality Britain in which there is no advertising at train stations, so finding out who wants their station advertising to last a bit longer than usual (the 3 music store and the Carphone Warehouse, as far as I remember) is probably a logical step.
In Transformers – which is, in effect, one long piece of product placement anyway – only certain characters got to use the big name products. The first time we see Tyrese Gibson's character, he alone of all the other characters in the scene is listening to an iPod and wearing Oakleys. This kind of distribution continues into the high school plot strand :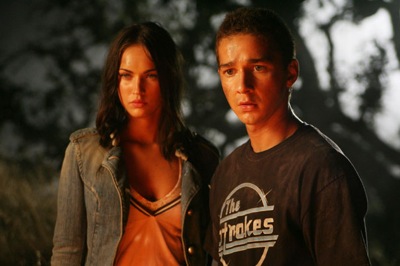 The girl in this picture, throughout the film, never wears branded clothing. You'll notice that the guy on the right is wearing a Strokes t-shirt; later in the movie, he'll get cold, and put on a G-Star Raw hoodie. While he is in handcuffs. That's an unusual level of commitment to getting the advertiser's product out there.
Very little research has been done about what is and is not effective in product placement; however, I'm interested in the effects this kind of clustering has. Does it dilute recognition for each of the brands, or do we key in more closely when they are all in the same place – when they are constantly flagged for our attention?